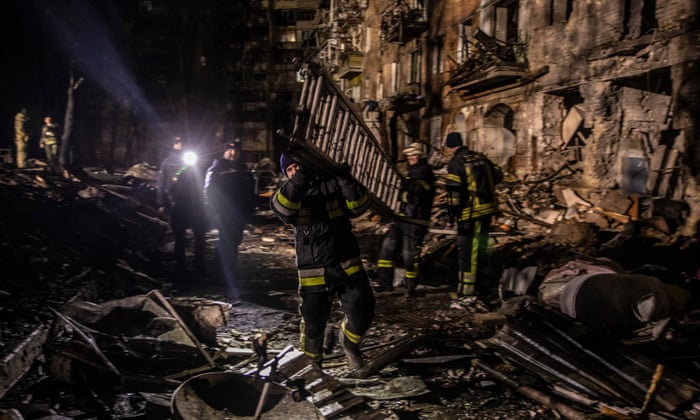 Russia has fired dozens of missiles at Ukraine in a new onslaught against the country's civilian infrastructure, killing at least six people in residential areas, as Moscow once more tried to retaliate for its military defeats by targeting the population.
Ukraine's armed forces estimated that Russia launched 70 cruise missiles, of which 51 were intercepted by air defences, in what the army called a "large-scale attack on crucial infrastructure facilities".
Kyiv's mayor, Vitali Klitschko, said 21 out of 31 missiles targeting Kyiv were shot down before they reached their targets. One of the 10 that evaded the defences hit an apartment block in Vyshgorod, a northern suburb of Kyiv, killing three people and wounding 15.
There was a kindergarten in the lower ground floor of the building, but it was evacuated just in time after air raid sirens went off. The blast left a 3-metre crater in front of the building, destroyed the apartments around it, blew the tops of nearby trees and ruined a children's playground.